We are BIG Paw Patrol fans in here. My kids loved meeting Marshall earlier this year when we spent the day at Nickelodeon Universe at the new American Dream Mall. Since we're spending a lot more time inside, we're watching our favorite pups on TV way more. When we heard about Dino Rescue and learned that some of our favorite episodes were coming together on one DVD….. EXCITED!
Being that we also love snacks around here, I am excited to share with you this super simple treat to go along with the DVD. This "recipe" takes very few ingredients, and is super easy to put together. Little hands will love helping you put together their Dino Dirt Cups. And big appetites will love the chocolate-y treat.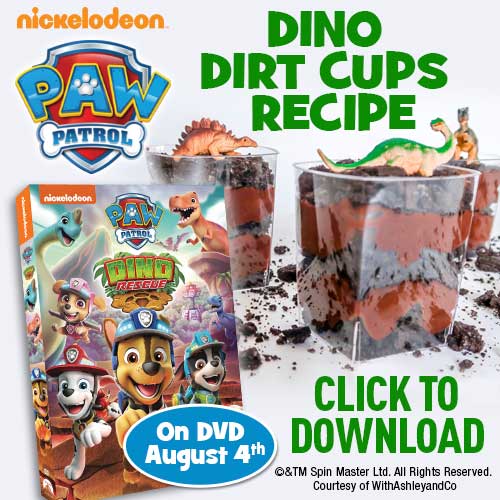 Episodes featured on the DVD include:
Pups and the Lost Dino Eggs
Pups Save a Pterodactyl
Pups and the Big Rumble
Pups Save a Big Bone
Pups Bark with Dinosaurs
Pups Save a Robo-saurus
About PAW Patrol: Dino Rescue
Get ready for roars and rescues with the PAW Patrol in the brand-new DVD PAW Patrol: Dino Rescue. Featuring episodes from the hit Nickelodeon series PAW Patrol (produced by Spin Master Entertainment), the new DVD release lets fans join the pups as they travel to the Dino Wilds with all-new rescue gear and heavy-duty vehicles for action-packed adventures, where they'll meet new prehistoric pals including new pup and dinosaur expert Rex, work together to stop a dinosaur egg thief and more. Available now from Paramount Home Entertainment and Nickelodeon Home Entertainment, for the suggested retail price of $10.99.